Posts for tag: dental implant
By Sarkisian Dental
May 07, 2021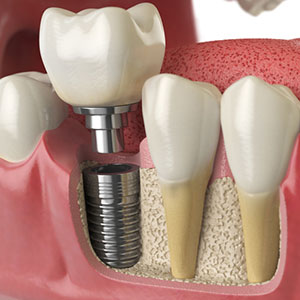 You've lost some teeth, and now you have to decide how to replace them. A fixed bridge or a partial denture are certainly good options. But the best choice today that dentistry has to offer is dental implants.
Implants have exploded in popularity among both dentists and patients, offering exceptional quality in life-likeness and durability. But they do have one drawback that might cause you to hesitate in choosing them: They're usually more expensive than other common tooth replacement systems, even more so if you're replacing each individual missing tooth with an implant.
But before you pass on them for something more affordable, take another look at dental implants. Here are 4 reasons why implants could be the wiser option for tooth replacement.
Life-like and functional. Other restorations can effectively mimic the appearance of real teeth, and they're reasonably functional. But implants score at the top in both categories because they replace more of the tooth—not just the crown, but the tooth root as well.
Bone friendly. Other restorations can't stop the gradual bone loss often caused by missing teeth, and dentures in particular can accelerate it. But implants are made of titanium, a bio-compatible metal that's also bone-friendly—bone cells readily grow and adhere to its surface. This accumulated growth around the implant site helps slow or stop bone loss.
Long-term savings. The integration of bone and implant creates a durable hold that can last for several years, possibly outlasting other restorations in the same situation. Taking into account all the costs—installation, maintenance and possible replacement—that can occur over the life of a restoration, implants could actually cost less in the long run.
Versatile. Implants can be used for more than single tooth replacements—they can be incorporated with other restorations like bridges or dentures to provide better support. Marrying implants with traditional tooth replacement systems can be less costly than implants individually while enhancing benefits like durability and bone strength.
Dental implants may not be right for everyone, particularly those who've experienced advanced bone loss. But if a thorough dental exam shows you're a good candidate, dental implants could be well worth the investment in your health and appearance.
If you would like more information on dental implant restorations, please contact us or schedule an appointment for a consultation. You can also learn more about this topic by reading the Dear Doctor magazine article "Dental Implants: Your Best Option for Replacing Teeth."
By Sarkisian Dental
October 14, 2019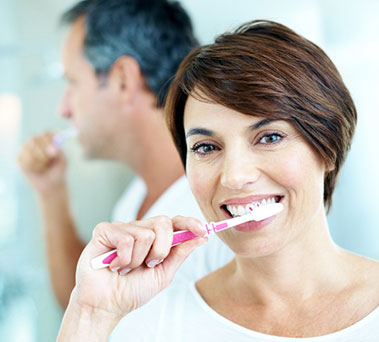 You feel great about your new smile, thanks to dental implants! And you may also be feeling relief as the problems with your former teeth fade into the past.
But that doesn't mean you can drop your guard on periodontal (gum) disease. Even though implants are impervious to decay, the natural tissues supporting them are vulnerable to periodontal (gum) disease. If they become diseased, your implants could lose their bone support and eventually fail.
And that failure could happen quickly. That's because, as life-like as they are, implants don't have one important advantage of real teeth: an attachment to a connective tissue called the periodontal ligament. This tough but elastic ligament lies between the teeth and the bone, attaching to both with tiny extending fibers and holding the teeth in place.
And that's not all: Because the periodontal ligament contains an abundance of blood vessels, it can supply antibodies to help fight infection. The body's defenses may not be able to stop disease, but they can certainly inhibit its progress.
Implants can't benefit from this infection-fighting mechanism. So, when an infection arises in the gums surrounding an implant, it can spread rapidly through a form of gum disease known as peri-implantitis (literally "inflammation around an implant"). If we don't stop it with prompt treatment, you could lose bone support from your implant and eventually lose it, sometimes in quick fashion.
That's why you should clean your implants everyday like you do the rest of your teeth with brushing and flossing. You should also visit us regularly for dental cleanings. A dental cleaning involving implants is similar to one with natural teeth, except the hygienist won't use metal instruments on the implants—this could create tiny scratches on their surface. Instead, they'll use nylon or plastic instruments or ultrasonic equipment to clean them.
You should also make a dental appointment as soon as you notice swollen, reddened or bleeding gums. If you have gum disease, we can stop the infection through treatment and restore your gums to health. This can be a long and involved process, but it's necessary to preserve your implants.
It's true that implants can change your life. If you want to enjoy that change for a long time, take care of your implants and the natural tissues that support them.
If you would like more information on caring for dental implants, please contact us or schedule an appointment for a consultation. You can also learn more about this topic by reading the Dear Doctor magazine article "Dental Implant Maintenance."
By Sarkisian Dental
July 16, 2019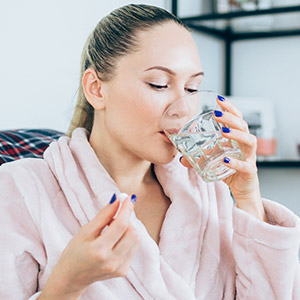 Millions of microorganisms call your mouth home—and while most are friendly, some are not. An invasive procedure like implant surgery can disrupt the mouth's soft tissues and allow disease-causing bacteria to enter the bloodstream.
This isn't necessarily a major concern if your immune system is sound—your body will move quickly to quash any developing infection. But if your body's defense is weak or compromised by other health conditions, an ensuing infection could cause you problems. In the case of a dental implant, a localized infection around it could lead to its failure.
The bone normally grows and adheres to the surface of an implant soon after it's placed, giving it the added strength and durability for which implants are best known. A bacterial infection, though, could impede bone integration and weaken the implant's hold within the jaw.
One way to avoid this is by treating patients at high risk for infection with an antibiotic before the procedure. In one recent study, researchers concluded that patients receiving a 2-gram dose of amoxicillin an hour before implant surgery helped reduce the risk of future implant failure.
But before taking this route, the dentist must first decide whether antibiotic pre-treatment might be more detrimental than beneficial to an individual patient. Antibiotics can cause side effects in certain people ranging from diarrhea to allergic reactions. Healthcare providers must also be prudent with administering antibiotics for the good of society in general—overuse can potentially give rise to antibiotic-resistant bacteria.
A number of healthcare associations highly recommend antibiotic pre-treatment for any dental patient with prosthetic heart valves, a history of infective endocarditis, a heart transplant and similar heart conditions. They also recognize patients with conditions like prosthetic joints, weakened immune systems, diabetics or other serious health problems could also benefit from antibiotic pre-treatment, but leave it to the physician's discretion on whether or not it's appropriate for an individual patient.
If you're planning to undergo implant surgery or a similar procedure and are concerned about infection, speak with your dentist about whether you would qualify and benefit from antibiotic pre-treatment. If appropriate, taking an antibiotic beforehand could minimize your infection risk.
If you would like more information on pre-surgical antibiotic treatment, please contact us or schedule an appointment for a consultation. You can also learn more about this topic by reading the Dear Doctor magazine article "Implants & Antibiotics: Lowering Risk of Implant Failure."